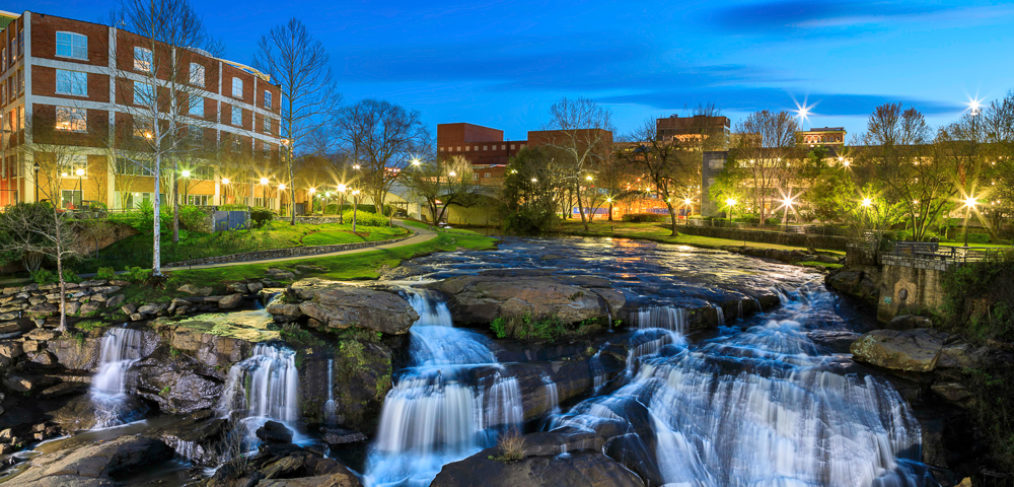 Spring Travels – Greenville SC
Every season is probably a good one if you're heading to Greenville, South Carolina. For us (my son and I), our trip started at the beginning of what usually is prime-time spring. It seems the crazy weather we had this year meant flowers and trees that usually bloom at the start of our trip had put on their show about 2 weeks earlier. However, staying in the heart of this city along the Reedy River is always a great opportunity for some photos, great food/coffee/ice cream, and family time visiting one of my sisters.
Greenville is nestled in the foothills of the Blue Ridge Mountains and is a traditional southern city with lots of charm, a revitalized downtown area, a one-of-a-kind curved pedestrian suspension bridge, shops, restaurants and friendly people. The lively atmosphere indicated a thriving economy and a sense of "this is the place to be!" Young and middle-aged folks, wearing khaki's and dress shirts, were having lunch at sidewalk cafes, moms were pushing strollers, families carried picnic baskets and blankets, retail stores were bustling and ice cream parlors and coffee shops were jam-packed making the downtown area a great place to be. The walkability and variety of amenities were perfect.
With less than 48 hours, it wasn't possible to see and do all that we would have liked, but we're looking forward to another visit. We loved staying at the Hampton on the Reedy River, enjoyed the food at Rick Erwin's cafe, and couldn't get enough of "Spill the Beans" milkshakes. Where else can you select the flavor of ice cream, fruit, sweet ingredients and have it blended right in front of you? I would need a year to try all the concoctions…but, I can say, vanilla ice cream with banana and vanilla wafers is amazing; a very close second to that is chocolate with pretzels and peanut butter. Amazing!!! Oh… and the best realtor is Tracy with Carolina Moves!
And, yes, the river runs right down the middle of the town…